A kitchen with a ceramic hob offers many advantages and functionalities that suit us.
Another is that the littlest ones in the house cannot get burned as easily as in a kitchen that is not ceramic glass.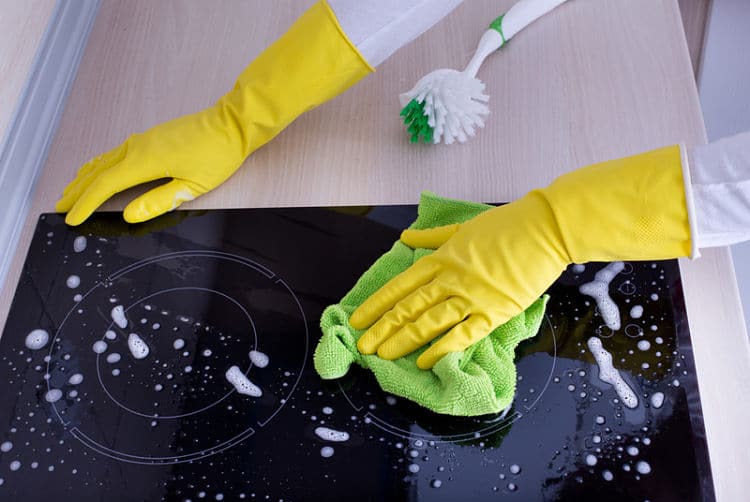 How to Remove Scratches From a Hob
Glass cooktops are prone to scratching. Deep scratches on the glass ceramic cannot be repaired. However, if your kitchen has light scratches or scratches, these CAN be polished.
What to do when the hob is scratched?
The best thing to remove the scratches is to rub with a polishing paste with a cloth those small scratches that came out. You can make it at home with toothpaste or baking soda, or apply a good ceramic hob polish.
Make a paste of baking soda and water to polish glass ceramics, it's very easy, just put half a cup of baking soda in a glass bowl and go adding water to create a solid paste. To apply the baking soda paste take a sponge rubbing in a way >circulate, all over the glass and let it act for at least 10 minutes. Then, with a scraper, you can remove the dirt. Finally remove with paper and dry and polish with a clean cloth.
Polishing glass-ceramic video with baking soda and water
A good glass polishing paste for glass ceramics that we recommend is Glass Polish.
Glass Polish GP200 – Cerium oxide
Rub the polishing paste using a soft cloth in a circular pattern. Wipe off the paste with a cloth afterwards. If this doesn't seem to be improving the scratch Stop!
Too much polishing candull the surface, and the scratch may be too deep to repair. Don't use anything too abrasive in the kitchen, as it can create more scratches.
Splinters and cracks in the ceramic hob
If something is dropped on the cooktop, it may splinter or break the surface. Using a cracked glass cooker is dangerous and poses a risk of electric shock.
The only way to ensure that the cooktopis safe is to replace it or change the glass . The method to remove and replace the glass varies depending on your cooktop.
repair cracked glass ceramic
Sometimes the glass is held in place by screws at the front of the cooktop; then the glass rises. Sometimes it is necessary to remove the supports under the hob and lift it to access the glass.
Inboth cases, make sure the powerhas been turned off before making repairs.
Balay 3EB714XR – The best-selling ceramic hob on Amazon
Faulty switch overheating
Sometimes, ceramic hobs do not heat well. If the stove does not heat, the problem may be a faulty switch. Test the breakers by turning off the power, then removing the H1 and H2 wires from the breaker that connects to the unit that is not heating.
Test the wires with an ohmmeter, which will record if there is continuity in the switch, or if electricity can flow properly in the switch.
If you don't have continuity, the drive probably needs to be replaced; if it has continuity, then the switch is most likely bad. Overheating can also be caused by a faulty switch.
Neoteck The Nº1 Digital Ohmmeter Multimeter
Prevention of problems in Vitroceramics
There are 5 ways to prevent damage to a ceramic hob:
Avoid pans coated with colored bottoms, as the paint may fuse with the plate. Aluminum or stainless steel cookware is best, although cast iron can also be used.
Pans with flat, smooth bottoms are best to prevent scratching. Pick up kitchen utensils instead of sliding them.
Never use the surface as a cutting board, and do not use it to store or deposit heavy objects on it.
Be careful when moving cookware that is full of food to prevent it from falling on the surface and breaking the glass.
If a pot that cooks food that contains large amounts If a large amount of sugar overflows or spills, the spill should be cleaned up as soon as possible, as it can cause marks or pitting of the glass, which is quite harmless but unsightly.
Let the cooker cool down a little before cleaning up these spills.
Products to remove scratches from theHob
One of the most used products is the store set because it comes with everything included.
The first step is to thoroughly eliminate all the burnt food remains that have been embedded in our ceramic hob by the glass stainless steel scraper.
The second step, apply the liquid cleaner bottle to the cooking surface cold, and finally, clean and rinse with a microfiber cloth. Subsequently, dry the ceramic hob.
Products most used for cleaning and repairing ceramic hobs are:
metal cleaning scraper
Special cleaning liquid bottle for ceramic hobs
Microfiber cloth.
Bosch – Set for glass ceramic
Polish the Hob
If we have reached this point. What we need is to know how to polish the ceramic hob without causing more damage than benefits. For this reason, we have listened to the experts and reviewed the chemical products and we explain in detail how you can polish your ceramic hob without any risk.< /p>
There are different homemade products with which to make polish with which to polish your ceramic hob such as:
Toothpaste
Baking soda
Ammonia
Metal cleaner
Cerium oxide
Polish a Hob with Toothpaste
Surely, this is the most popular homemade product to polish the ceramic hob on the internet, since we all have one or more toothpastes at home.
But, What makes toothpaste have such polishing power? Calcium carbonate, since it is an abrasive chemical popular for removing dirt plaque and stains from surfaces. This chemical aided by the movement of the brush or scourer. Apart from calcium carbonate, other abrasives in toothpaste are:
Dehydrated silica
Hydrated aluminum oxides
Magnesium carbonate
Phosphate salts
Silicates.< /li>
These abrasives have the correct dose of roughness to remove plaques, but also have the necessary smoothness to avoid damage . Okay, now we know why toothpaste is one of the most popular methods to polish ceramic hobs. > Now let's get to the application method!
The correct method to polish the Hob with Toothpaste
With water and vinegar we will first clean any superficial dirt helping us with a clean cloth or rag.
We will apply a little toothpaste, especially those that have no granules, on our ceramic hob, in the central part, with the idea of ​​distributing it< /strong> then, on all the points more easily.
We apply water on the toothpaste and with a scourer of those that do not scratch, making circular movements we will pass it over the entire surface of the ceramic hob.
We will take a dry cloth and remove all the liquid leftover.
With a dry and clean cloth, we will dry and leave a shiny finish.
And now we can enjoy our polished and shiny glass-ceramic!
Effective polish for ceramic hob
Sometimes cleaning the glass of the ceramic hob well is not enough and we will need to buy a specific polish for glass ceramics to remove all those silver stains or clean our burnt glass ceramic.
For this, the most effective product is to use a quality polish such as Hotrega. This German polishing paste will allow you to remove all those scratches and embedded dirt in an almost professional manner.
PolyWatch glass polishing paste for glass ceramics
putty to repair glass-ceramic glass
Contains ceramic powder that hardens like rock for a permanent repair. Fully waterproof after curing and excellent resistance to all household cleaning products.
Heat resistant up to 130 degrees centigrade. Easily shaped and shaped to fit each repair for a high quality finish.
As you work, the dough can be cleaned with a wet finger or spatula for a smooth finish. >.
Working time to mix about 20 minutes and curing total in 4 -5 hours. Excellent adhesion to all ceramic and glass surfaces.
How to apply putty to repair a Hob
First fill by applying the putty in the hole and spread it before it hardens completely, 4-5 minutes. Then rebuild Giving it the shape you want, obtaining it with your hands and smoothing the surface before the product begins to harden.
putty to repair glass-ceramic glass
If the break or crack is in the fires or resistances, forget about this method. Check with your home insurance or replace it with a new vitroceramic.
However, if the damage is in a corner or on the edges of the ceramic hob, you can repair the glass with putties, silicones and resins em> manufactured to repair ceramics resistant to high temperatures.
Which Putty to repair ceramic hobs to buy in 2021
When the scratch on the hob is deep an excellent option is to use a high quality Epoxy repair putty formulated specifically to repair scratches on the glass or induction hob cracked.
Here you have the best putties to repair ceramic hobs:
Pattex Fix-Everything Stick Bicomponent extra-strong putty
Rebajas
Two Component Quick Repair Epoxy Putty
Masilla Metal, XUDOAI Masilla Bicomponente Extrafuerte Pasta Moldeable Para Pegar y Reparar Metal, Piezas de Automóviles, Plástico Duro, Madera, Piedra Masilla Epoxi (100g)
✔ Después de frotar y ablandar, se usa para llenar fugas en tuberías selladas, tuberías de drenaje, macetas, tuberías de grifería, etc.
Vitroclen removes scratches
Recommended product "Vitroclen scratch remover"
Vitroclen is a well-known product for cleaning glass ceramics that helps protect your glass ceramic. The ceramic glass is a very sensitive material. For this reason, we will avoid using other multipurpose or non-specific products since it can cause damage and more scratches.
Vitroclen is a very popular product and is designed to protect your ceramic hob in the long run. What are you looking for with its compounds to protect the ceramic hob from scratches and not lose its shine.
For this reason, we can only recommend it (although the brand pays us for it)
How much does it cost to repair the glass of a ceramic hob?
The repair of ceramic hobs is a job that should be carried out by experts. This prevents damage to both the new glass and electrical components.
To find professional installers who can take care of the replacement of the glass of your ceramic hob, you can do a quick search on the Internet. Thus, you can locate the specialists who operate in your area directly from your home and request a quote.
If your hob is no longer under warranty, the prices to change the glass are quite high. For example, for 60 cm covers alone, the costs for spare parts range from €150 to €170, to which you must add the cost of the repair and the home travel.
Once you have chosen the professional to entrust the work to, you just have to make an appointment with the day that best suits you. And so you can repair the glass of the ceramic hob and return to delight your loved ones with your kitchen.
How to prevent the glass from breaking or scratching?
4 Tips to avoid damaging the glass of the ceramic hob:
Do not use blunt objects on the glass ceramic to avoid damage;
Do not drag pots and pans on its surface to avoid damage the glass. In addition, glass ceramics should only be used with stainless steel pots. Avoid those made of clay and aluminum, in fact, they are not good.
For day-to-day cleaning, use a simple cloth cloth damp with a little liquid detergent diluted with water to remove grease and oil;
For more thorough cleaning, such as removing stains from lime, only use detergents specific for ceramic hob or a homemade mixture with white vinegar diluted with lemon juice strong>.
CONCLUSION
I hope that this tutorial with which we have tried to teach you some methods to repair scratches on your ceramic hob has been interesting and useful.
What was your conclusion once you finished reading this article? If you have any questions, don't think about it, let me know in the comments right at the bottom of the page.